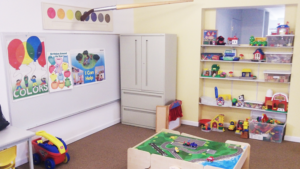 About Children's Garden Day School's Day Care, Preschool and Summer Camp in Hamilton, NJ
The Children's Garden Day School is a full-service day care, child care, preschool, and summer camp center located in Hamilton, New Jersey. We are conveniently located on Edinburg Road in Hamilton, New Jersey. Formerly known as The Edinburg Day School, our day care, preschool and summer camp programs encourage children to form healthy habits and make good choices while playing, growing and learning in a nurturing, pleasant and spacious environment. Our knowledgeable, experienced faculty members promote diversity through our multi-sensory, well-structured schoolhouse setting.
Children's Garden Day School incorporates the New Jersey and Nation-based Core Curriculum Content Standards for preschool education to ensure that our children have been exposed to the basics in preparation for Kindergarten learning.
These educational elements include:
Facilitating Childhood Milestones (potty training, weaning, feeding and dressing self, etc.)
Sharing, following directions, and participating in organized activities
Identifying Letters and Numbers
Reading Readiness and Comprehension of Printed Material
Beginning Phonics and Word Recognition
Counting, comparing, and identifying Mathematical Concepts
Observing and Investigating in Science Concepts
Promoting Health and Physical Education Basics
Developing gross and fine motor skills. . . and much more!
The daily schedule, dedicated day care, preschool and summer camp faculty and our pleasant learning environment ensure a comforting atmosphere for all of our little learners. Children's Garden Day School also supports healthy eating and 'green' living and concepts surrounding healthy eating and lifestyle habits are incorporated into our creative activities daily.
The Children's Garden Day School. A caring, healthy, nurturing day care facility for all children.